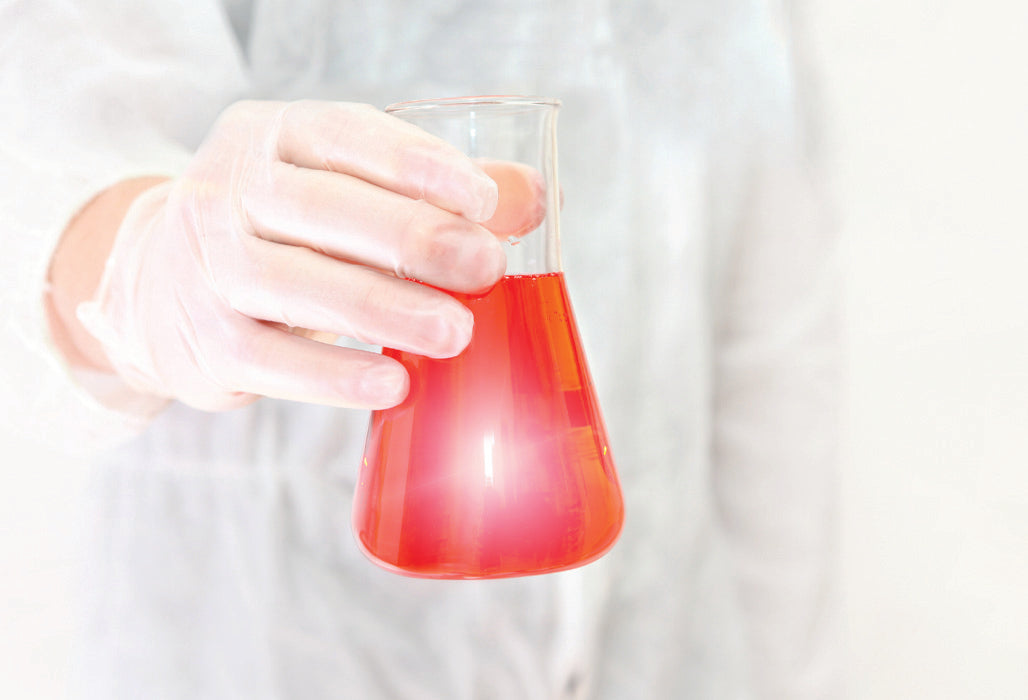 And what are the benefits of Vitamin B3?
Well tolerated with myriad benefits for the skin, niacinamide is arguably the MVP of active ingredients. From refining pores and balancing sebum production to soothing skin and reducing redness, this complexion-perfecting B-vitamin does A LOT of heavy lifting. Yet it's only recently been getting the attention it deserves.
While not as plumping as hyaluronic acid or as wrinkle-smoothing as retinol, niacinamide is quietly powerful. And beneficial for all skin types – so, what are you waiting for? To learn how to use niacinamide serum in your skincare routine for a calm, clear and even complexion, read on.
---
What is niacinamide – and what skin types and concerns is it good for?
Also known as nicotinamide, niacinamide is an active, water-soluble form of Vitamin B3. With antioxidant1 and anti-inflammatory properties, it's a popular skincare ingredient with wide-ranging benefits. Incredibly versatile, it can be used alone or formulated in moisturisers and serums alongside complementary active ingredients. While it features in countless skincare products, it's considered most potent when delivered via a serum.
Dermatologists love Vitamin B3 as it works well for all skin types, from dry to combination, ageing, oily and acne prone. Unlike retinol and exfoliating acids, which can be drying and irritating, niacinamide is gentle and almost universally well-tolerated. It really is the BFF of sensitive skin – and it also actively addresses and helps soothe irritation.
Topical niacinamide can address the following skin concerns:
Oiliness, shine and acne
Dehydration or dryness
Sensitivity and irritation
Dullness
Fine lines
Oversized pores
Rough or uneven skin texture
Hyperpigmentation
Redness, blotchiness and rosacea
Acne marks and scarring
---
Benefits of niacinamide serum for pigmentation, pores and more
A raft of research reveals niacinamide is the ultimate multi-tasker, helping to improve the hydration, texture and brightness of your skin. This includes a 12-week study that found a 5% concentration of niacinamide, applied topically, to reduce the appearance of fine lines, hyperpigmentation, blotchiness and dark spots, while improving skin elasticity.
(Over-the-counter products tend to range from 2-10%; however, some products go as high as 20%.)
Preventing the transfer of melanosomes to keratinocytes2 (or in simple terms, pigment to skin cells), niacinamide has been shown to improve skin discolouration and acne redness. 
Clinical studies have demonstrated its ability to reduce hyperpigmentation and promote a brighter, more even skin tone.
With broad anti-inflammatory action, niacinamide helps to soothe red, irritated skin and can benefit those with acne and other inflammatory skin conditions such as rosacea3. It also helps to reduce sensitivity and dehydration by boosting the production of ceramides4 to strengthen the skin barrier. Not only does this help to reduce trans epidermal water loss (TEWL)5, but it also improves the skin's protective mechanisms against environmental stressors.
For those with oily skin and acne, niacinamide promotes a clearer, more mattified and less congested complexion. Research has shown it can help regulate oil flow, which has the added benefit of minimising the appearance of large, visible pores.
It's also believed to boost collagen production for a supple, youthful-looking complexion. What more could you want from your skincare?
---
How to properly apply a niacinamide serum
When using any serum, it's also best to apply to a freshly cleansed surface – free from makeup, dirt, SPF and excess oils. This allows maximum penetration and uptake of the active ingredient(s). Niacinamide is no different.
Apply your serum after cleansing (and toning, if you're a fan), and before heavier or oil-based serums, moisturiser and sunscreen. Applying oil-based serums first can impair the efficacy of your niacinamide serum, which will typically be water-based. So, use your Vitamin B3 first.
Allow enough time for each layer to absorb and stick with a maximum of two serums at a time. It's also a good idea to apply your serum when your skin is still slightly damp and therefore more permeable.
---
How often should you use your serum?
Gentle and well-tolerated, a niacinamide serum is ideal for twice-daily use. Morning and night. While acids and retinol can increase sun sensitivity, niacinamide does not, so it's fine to use in the morning. It also has protective antioxidant properties, so it's a great ingredient to use prior to UV and pollution exposure.
At the same time, the anti-inflammatory ingredient is also ideal for use at night. It can be used alone or layered/combined with other hydrating ingredients such Vitamin B5 (panthenol). Or paired with stimulating, potentially irritating ingredients to help strengthen and calm the skin.
---
Can niacinamide cause redness?
If you've ever taken high doses of niacin (another form of B3) as a supplement, you may have experienced warm, red and uncomfortable skin. Or, what's known as the Niacin flush.
Can topical niacinamide cause the same issues? Well, yes and no. While Vitamin B3 is renowned for its redness-reducing abilities, you can get too much of a good thing. Some online users will complain of redness from using niacinamide. However, this is a result of using too high a concentration – and irritation is very unlikely at formulations of up to 5%2.
In other instances, irritation can occur as a reaction to the combination of products you're using. For example, niacinamide with Vitamin C or AHAs.
By and large, niacinamide will help strengthen skin and reduce flushing – and it's regularly prescribed for irritated and reactive skin. Try starting with a formula with a concentration of 5% or less. If you do experience issues at this concentration, there's a chance you could be allergic. Or you might be pointing your finger at the wrong culprit in your routine.
---
Using Niacinamide with other active ingredients
Adding to niacinamide's popularity is the fact it plays nicely with so many different ingredients. Particularly wrinkle-fighting retinol and hydrating hyaluronic acid.
It also works well with salicylic acid, AHAs and, if combined correctly and in appropriate concentrations, Vitamin C. However, these ingredients are often best applied at different times or alternate days, particularly if you have sensitive skin. Stay tuned as we'll explore all the dos and don'ts of skincare layering in a subsequent article.
---
Dermaenergy's niacinamide serums
If you're ready to add a niacinamide serum into your routine, we have three great options. In the White Label line, Calm The Harm is an ultra-soothing serum designed for red and irritated skin. It's formulated with 5% niacinamide, alongside anti-inflammatory ginger, antioxidant and anti-inflammatory date seed extract, acne fighting SeboClear and our signature skin energiser, ATP.
In our luxury Black Label line, there are two Vitamin B3 Serums; B2 Serum and B3 Serum. The B2 Serum is formulated with 5% niacinamide + NeutraZen (a powerful peptide with anti-inflammatory and barrier-supporting actives, B3 Serum features 10% niacinamide + NeutraZen.
Shop Dermaenergy White Label and Black Label serums today.
References